Experience a FULLY TRANSPARENT Digital Partnership Unlike Any Other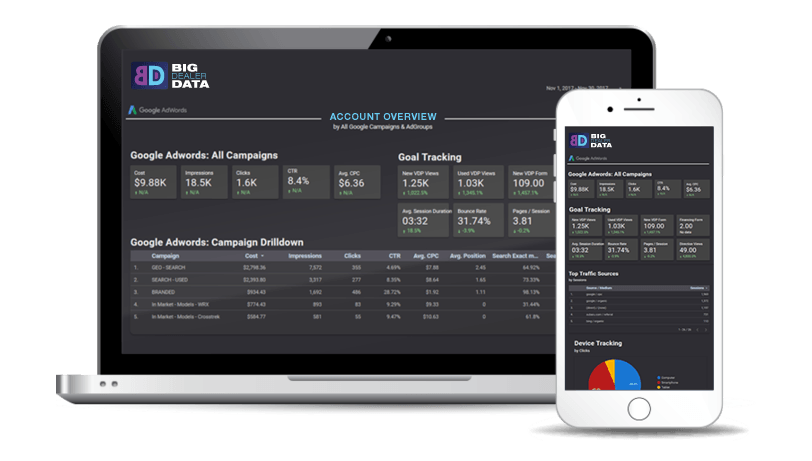 There are plenty of challenges that can keep you up at night. With Big Dealer Data you can permanently take your digital advertising off of that list.
All data goes directly into your analytics account with zero filtering.
You pay directly for your media with zero media markup EVER.
A low monthly fixed management fee – NOT a percentage of spend.
A weekly, yes that's right weekly, status call with your account representative.
Ideas, strategies and landing page concepts brought to you which are tested and then proven to work based on actual data and real results.
40+ years of online dealer advertising experience combined with state-of-the-art technology.
A Google Certified Premier Partner – fewer than 3% of agencies achieve this
Founders and key personnel direct from the auto industry.
A level of insight and data you have never been exposed to before.
What Does This Mean for Your Dealership?
Simply put, you get more quality web traffic for the SAME BUDGET. More quality web traffic means more clicks from people actually shopping and demonstrating real interest in the vehicles you have for sale.
What is Quality Web Traffic?
Quality web traffic is defined as an increase in the average time on site, pages per visit, and inventory views for all your paid digital channels on a keyword by keyword basis for search and proper placement and bidding for your banners, video and contextual advertising. It means lower bounce rates and an increase in quality leads, walk-ins and phone ups.
You Can Expect to Generate MORE Sales From Your Website Through:
Increased website leads of better average quality
Increased phone ups of better average quality
Increased walk-in traffic
Better appointment set rates
Better appointment show rates
Better appointment close rates
What Other Dealers Have to Say About Our Services
We interviewed a few different companies when we were searching for a digital option for PPC. One characteristic that stuck out the most about Big Dealer Data is how much they will be involved on this journey with us! With our previous vendor we were lucky to get 1 hour a month to discuss strategy. Currently with the digital market and Google changing every day you must be in constant contact with your digital vendor. I feel like this void we had before is now filled with the Big Dealer Data team. It is still early, but, I can only imagine how much better this will get in the long run. Pick a team that wants to vest into your business and not a team just willing to spend your money! That is why we chose Big Dealer Data.
Jim Rourke,
GM/Owner, Central Ave. Nissan

During our first full year with the folks at BDD we were able to grow our overall sales 30.4%. This was a 241 new vehicle increase from 793 to 1,034 making us the largest unit growth in the tri-state. We also became the largest certified GM dealer and largest Chevy car dealer in our state. The way they organize the campaigns makes it easy to budget within the budget around models and inventory and track progress at a glance. They are always trying new strategies and bringing new technologies or ideas to the table to consider. Their skillful, attentive, approach helped us get and stay ahead of some VERY stiff competition.

We have engaged BDD to manage our portfolio of dealerships. Their efficient search strategies enabled us to extract far more from our search campaigns than leading industry competitors. The quality of their display traffic is unmatched and the conquesting nature of it is allowing our stores to get the market consideration they need against leading brands to increase floor traffic and sales beyond their usual niche.
Schedule a No-Obligation Consultation